Is Liposuction Painful?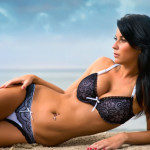 The benefits of liposuction are well established. This body sculpting procedure reduces unwanted fat in targeted areas — such as the abdomen, hips, thighs or buttocks — for a more beautiful and proportional shape. In a body-conscious region like South Florida, liposuction is in high demand.
Candidates for liposuction understandably have pressing questions about the procedure. One of the most common liposuction questions that our plastic surgeons receive is whether the procedure is painful. In this post, the plastic surgeons at the South Florida Center for Cosmetic Surgery reveal the answer and explain what is reasonable to expect.
When Performed Correctly, Liposuction Is Not Painful
As long as you have selected an experienced surgeon and you are under anesthesia during your operation, liposuction is not painful. You will be in a sleep-like state and unable to feel anything, including any pain. Our liposuction surgeons prefer to use the tumescent technique, which involves infusing the treatment area with a special tumescent solution. This fluid not only makes it easier to break up and remove the unwanted fat, but also makes the recovery process a little smoother. Generally, tumescent liposuction is well tolerated by our patients.
What can make liposuction a more painful experience is an unqualified plastic surgeon that does not adhere to the standard of care. This is why it is so important to work with board certified, experienced surgeons that operate in accredited facilities. Your comfort and safety depend on it!
Your Post-Operative Comfort Level
Recovering from liposuction is not a painful experience, but there may be minor discomfort. It is difficult to pinpoint how much discomfort, since everyone has a different threshold for pain. Many describe a feeling of tenderness or soreness, similar to the feeling after completing a vigorous workout. However, it is not unbearable.
To counteract any discomfort, our plastic surgeons prescribe oral medication to be taken as needed. After a few days, most patients switch to Tylenol. Putting ice packs on the treated area can also help to minimize pain. And, the compression garment placed after surgery helps reduce discomfort by restricting the movement of the treated area.
Other post-operative liposuction side effects include some swelling and bruising, both of which resolve mostly in the first two to three weeks of recovery.
Do You Have Additional Questions?
If you are curious about other aspects of liposuction, or would like to learn more about how the procedure can help your "problem areas" of excess fat, contact the South Florida Center for Cosmetic Surgery today. Call us at (954) 565-7575.