Why women have breast surgery?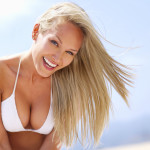 Pop culture often marginalizes breast surgery by showing superficial, vanity-obsessed women with big breasts getting even bigger implants. The reality is that the reasons why women pursue breast surgery procedures are as unique as the women themselves. Here, Florida Center explores some of the common reasons why women undergo breast surgery.
To Change the Size of the Breasts
Let's start with one of the most common reasons: Many women pursue breast surgery to modify the size of their breasts. Women with naturally small breasts have implants placed to boost breast size, and women with oversized breasts have them reduced.
This is not done purely for cosmetic reasons. While the aesthetic benefits are most obvious, there are other benefits to altering breast size, especially in breast reduction cases. Reducing heavy, oversized breasts can alleviate chronic back, shoulder and neck pain. Augmenting breast size with implants can end the life-long struggle to find well-fitting clothes. Psychologically, a change in breast size can improve self-confidence.
To Address Pregnancy and Nursing-Related Changes
A lot of Florida Center's breast surgery patients are mothers that have noticed changes in their breasts after pregnancy and nursing. Quite commonly they have pronounced sagging and loss of fullness. Many of these women loved the way their breasts looked before they had a baby, and wish to restore their pre-baby breasts. Depending on their specific needs, they may opt for breast augmentation and/or breast lift.
To Correct a Deformity
One of the best examples is tuberous breast deformity (TBD), a congenital abnormality in which the breasts do not develop normally. Tuberous breasts usually look pointy and narrow and may have significant asymmetry. Women with TBD are often unaware that they have the condition; they simply believe their breasts look abnormal. TBD treatment can involve both breast augmentation and breast lift techniques to achieve the desired results.
Another example of seeking breast surgery for a deformity is women that are born with/develop inverted nipples. Treatment of inverted nipples depends on the degree of inversion, but usually involves a straightforward (and sometimes in-office) procedure.
What Are Your Reasons?
Does the size, shape or position of your breasts make you self-conscious? To discuss your concerns with our board certified plastic surgeons, please contact our practice today at (954) 565-7575 and schedule a consultation.