Breast Augmentation Miami, Breast Implants Fort Lauderdale
Enhancing your body with Breast Augmentation in Miami and Fort Lauderdale Florida could be the start of reaching the figure you always dream. South Florida Center for Cosmetic Surgery near Fort Lauderdale and Miami area specializes in breast augmentation surgery.
The first step for Breast Augmentation Surgery is to know if you are the right candidate. Usually, a good candidate will have the following characteristics.
Overall good health
Has fully developed breasts
Is dissatisfied with the size or shape of her breasts
Wants to fix breasts that are asymmetrical, or uneven
Is at least 18 years old (for saline implants)
Is at least 22 years old (for silicone implants)
---
---

*Promotional Price does not include Anesthesia/Surgeon fees, Contact us by mail or phone *Results may vary in individual cases. *See full disclaimers at the disclaimers area
Breast Augmentation Implant Choices
Choosing a breast implant is an individual process. At South Florida Center for Cosmetic Surgery, we offer both saline and silicone implants to our patients. It is good to know the benefits of both choices so that you can make your decision based on the look and feel that you want.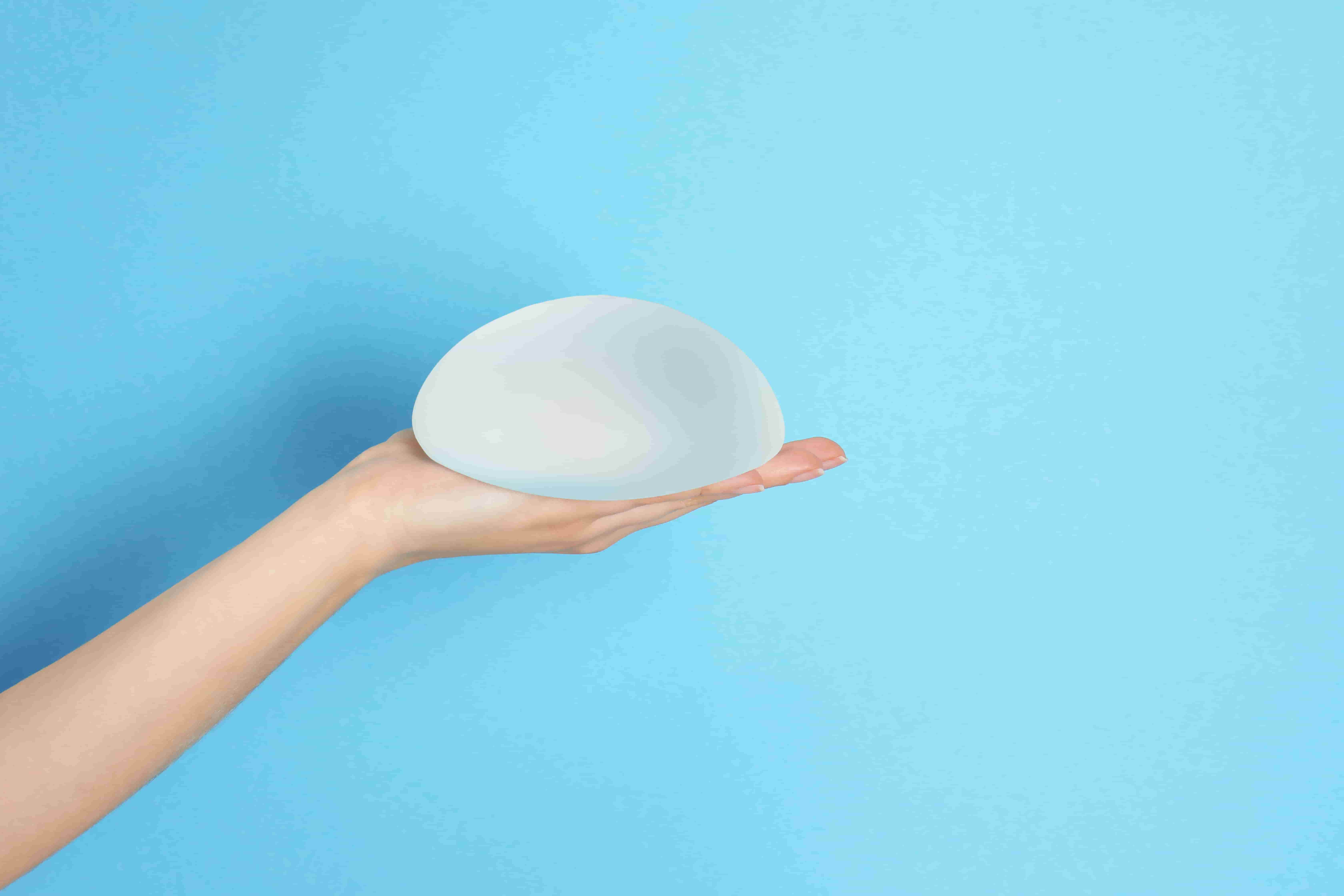 Saline
Saltwater fills the saline breast implant. The implant is placed empty and then supplied to the proper size when in place in the body. One benefit of saline breast implants is that they require a smaller incision. Regularly saline implants leave a smaller scar. They generally feel slightly firmer than silicone implants, and they cost significantly less. Moreover, sterile salt water won't harm the body if they leak.
Silicone
Silicone breast implants, unlike saline implants, come pre-filled and are implanted in the body that way. The "gummy bear" implants contain a thick but flexible silicone gel. Although more expensive than saline, many women prefer silicone implants, insisting that they look and feel more natural.
There has been some controversy in the past over whether silicone implants are safe to use. However, the FDA has tested and approved their safety for use in breast augmentation surgeries for women 22 years of age and over. Also, as a silicone implant contains cohesive, solid gel, no dangerous fluids or substances will enter the woman's body if the implant is damaged.
At the South Florida Center for Cosmetic Surgery, your surgeon will discuss your options for breast implants and help you decide on the breast implant that is the most appropriate fit for your physique and your personal preferences.
Incision Options for Breast Implants
Once you decide which breast implant is right for you, you and your doctor can discuss your choice of the incision point — The initial incision through which the implant will enter the breast area.
There is two incisions area to choose from: periareolar (through the areola, or dark area around the nipple) or inframammary (in the fold below the breast).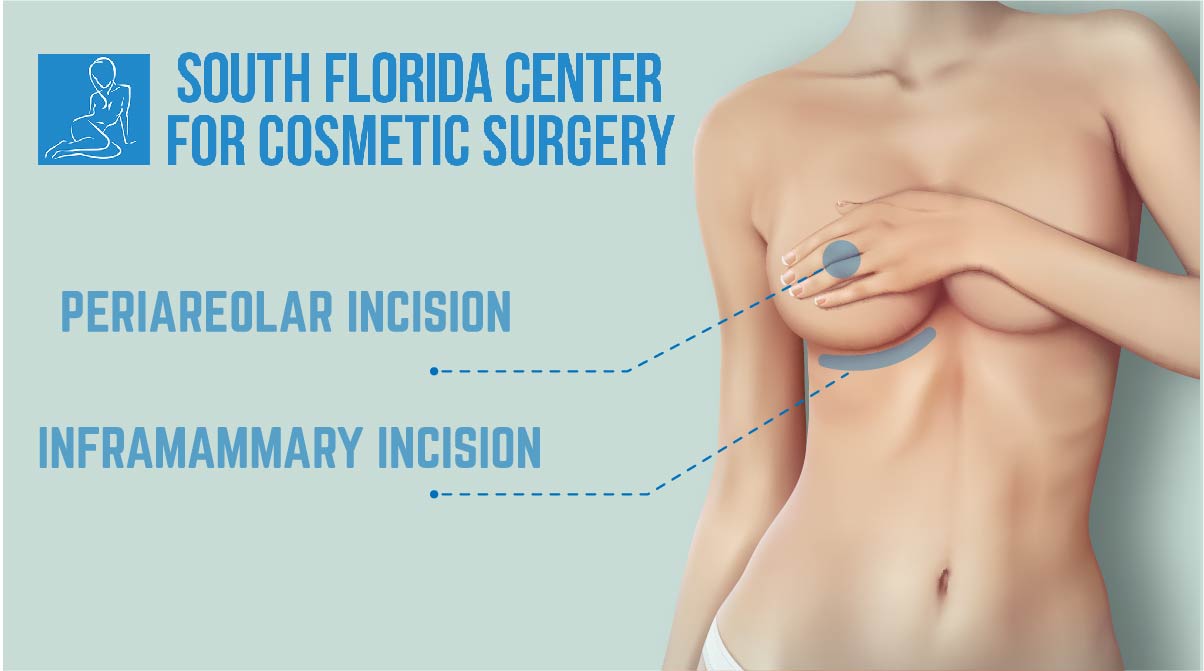 For your breast augmentation, an incision is made either under where the dark skin of the areola meets the light epidermis of the breast (periareolar) or under the breast where it meets the chest wall (inframammary). During your initial consultation, your surgeon will thoroughly discuss the placement of your incision, the pros and cons for you personally and consider your preferences.
Your surgeon's goal is to achieve the most natural breast appearance possible. There are two areas for the initial incision, periareolar and under the breast. On rare occasions, during the breast enlargement surgery, your surgeon may change the placement of the implant if a more optimum location can be determined. Stitches beneath the skin (subcuticular sutures)close the incision. The incisions may also be taped for more significant support, and a gauze bandage applied to help with healing.
Peri-areolar Breast Augmentation
This technique involves making incisions around the areola, which is the dark area surrounding the nipple. Because of the placement of the incisions, the naturally dark pigment of the areola hides most residual scarring *. The drawback of this incision site is that in some patients, it can interfere with breastfeeding.
Infra-mammary Breast Augmentation
This technique involves making a small incision in the inframammary fold, where the bottom of the breast meets the chest. The fold of the breast hides the initial the incision covering any residual scarring will be hidden by  *. Moreover, this incision will not cut any breast glands, creating no complications for breastfeeding.
You may choose to have other cosmetic plastic surgery procedures, such as liposuction, tummy tuck, or a breast lift performed at the same time as breast enlargement. Please consult directly with your surgeon to devise the best schedule for you.
The Breast Augmentation Procedure
The entire breast augmentation surgery usually takes between one and two hours, during which time you will be under general anesthesia. The doctor will make an incision either in the areola or the breast fold, placing the implant under your pectoral muscle (this is called subpectoral implant).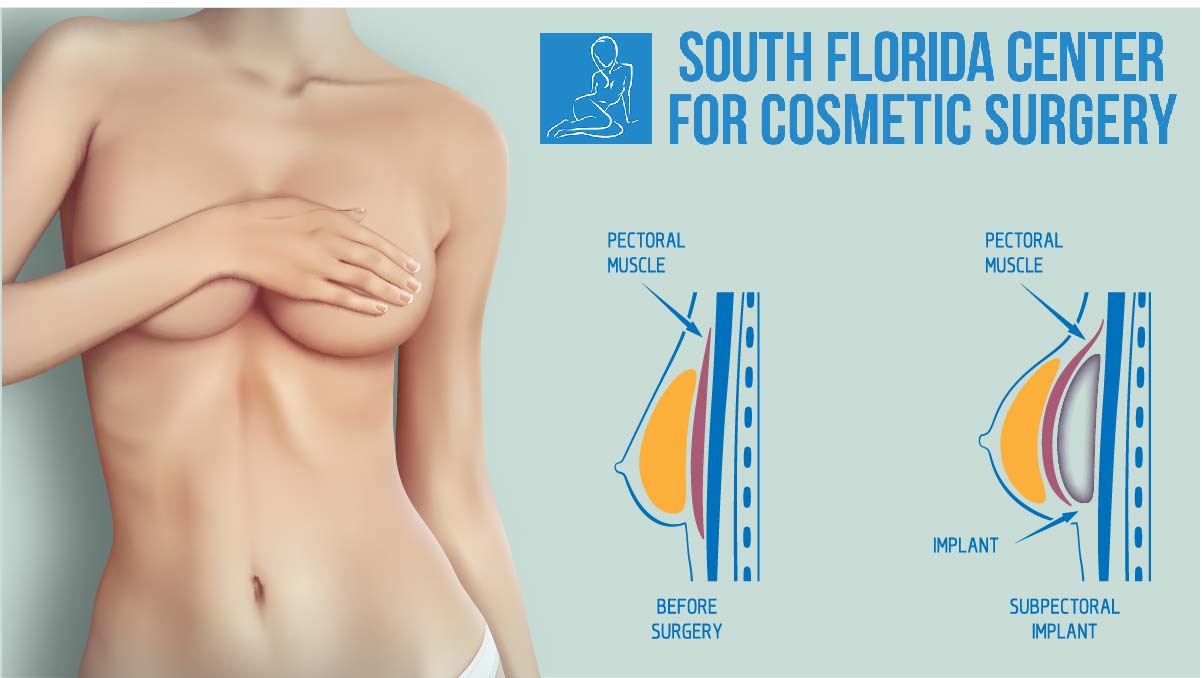 The placement of the implant will depend on your breast tissue, body composition, and the amount of sagging (ptosis) of the breast. When the implants are correctly placed, the incision is closed using stitches beneath the skin (subcuticular sutures).
For more support, the doctor may also tape the incisions. He will then apply a gauze bandage and then a surgical bra to your breasts. After surgery, you may return home, though you will need to have someone drive you and stay with you for at least the first 24 hours.
The Recovery Process—What to Expect
Your breasts will appear firmer and fuller immediately following your breast augmentation. As with any cosmetic plastic surgery procedure, some swelling and bruising can be anticipated. Your breasts may not attain their final feel or shape for three to four months. Be sure to address any questions or concerns with your surgeon immediately. Your health and happiness are the most important considerations at any time.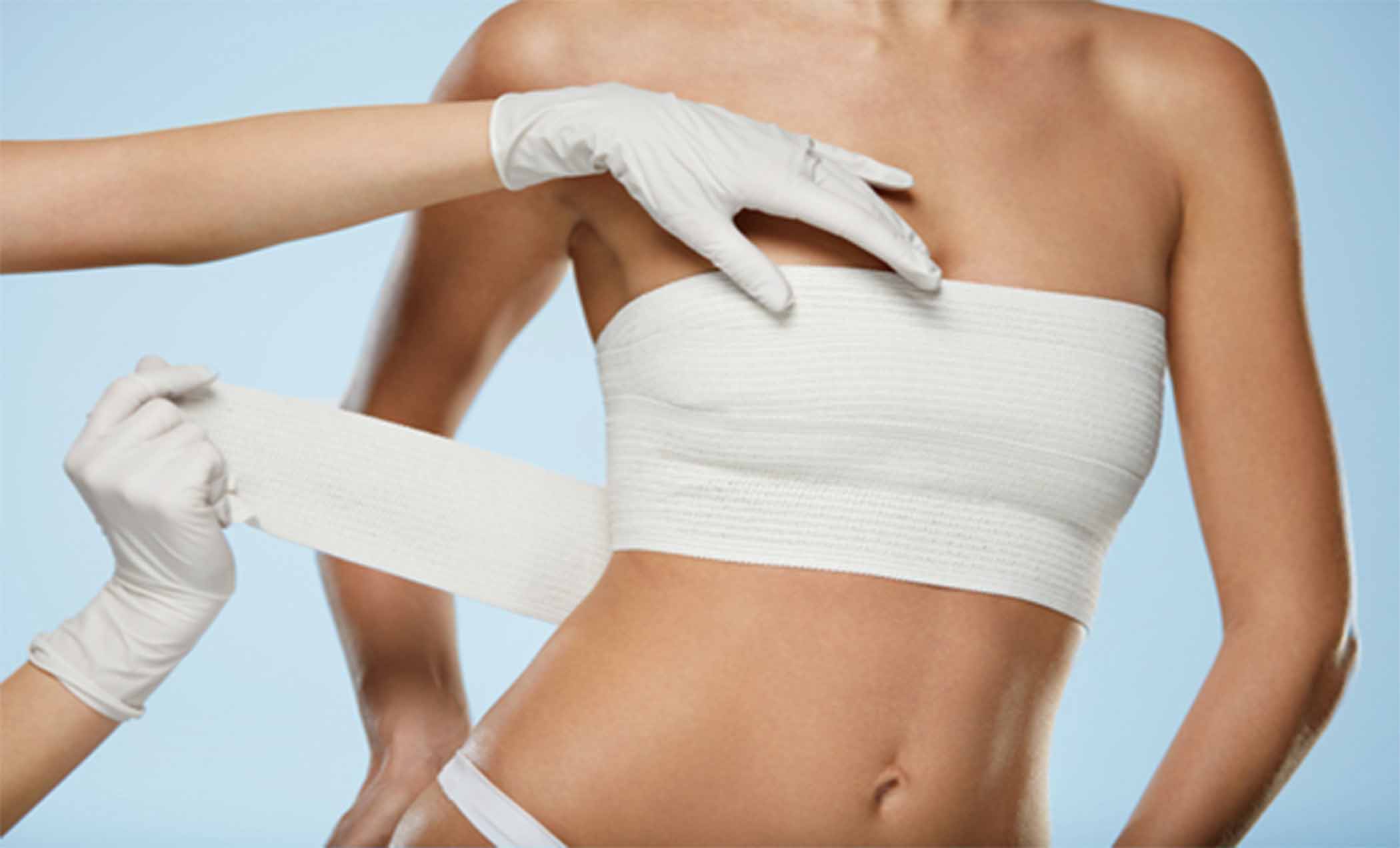 You may be uncomfortable when you "awaken" after your breast enlargement. The cosmetic surgeons at South Florida Center for Cosmetic Surgery can provide medication to relieve any discomfort. You will be placed in a surgical bra immediately after your cosmetic plastic surgery procedure. You will continue to wear this day and night for approximately two weeks. However, you may remove this special bra for showering purposes during those first few days. You will receive specific instructions to follow during your recovery, including rest and sleeping positions, raising your arms, bathing and showering techniques, breast manipulation, and deep breathing exercises.
Post Surgery Appointments
Your surgeon will want to examine you at regular intervals during the first 90 days following your breast enlargement. Our patients return to the Center sometime after the third day so that a surgeon can remove any bandages and check the incision area. You will need your surgical bra to support your breasts until your doctor tells you otherwise. Your breasts may be swollen and bruised for approximately one to two weeks.
Breast Augmentation Scars
In most patients, the scars from the breast enlargement incisions will be pink for about six months and gradually fade after that. The scars are usually inconspicuous. Nevertheless, you should know that all cicatrix are permanent, and their height, width, and final color are not predictable.
As with any surgical procedure, small nerves to the skin are interrupted during surgery. Portions of the nipple area may feel numb or have less than a full feeling. Sensitivity usually returns over several weeks, but some diminished feeling may last indefinitely after your cosmetic plastic surgery.
If you sunbathe or utilize a tanning bed, you must not do so until any numbness of the breast is gone (to avoid burning). After this point, you must protect the incision site with a sunscreen of SPF 15 or more for at least six months.
Breast Augmentation Potential Complications
Capsular Contracture
Even though most breast augmentation patients find that their bodies tolerate their breast implants well, your body's natural reaction to any foreign material is to surround it with a thin membrane called a "capsule" to stay in the desired pocket. The formation of this capsule is not a problem and occurs in every patient. In some cases, for reasons that are as yet not completely understood, this capsule can shrink around one or both implants, compressing the implant and making it round and firm. This formation is called capsular contracture and can occur in varying degrees.
Although some women may consider some firmness desirable, the capsule can cause the breast to become unnaturally firm, misshapen or uncomfortable. Capsular contracture may occur from a few weeks to several years after the initial procedure.
There is no way to predict your body's reaction after breast enlargement, and no test to determine if you will develop capsular contracture. Placing the implant under the muscle, in some cases, can reduce the incidence of this condition. If a patient does develop capsular contracture, surgical intervention may be required.
Breast Implants displacement
The opposite of capsular contracture can also occur when breast implants are in a satisfactory position, but several months later, there is a spontaneous expansion of the capsule. This movement is described medically as an inferior and lateral migration of the implants. If this happens, the breast enlargement patient will require the closure of the breast pocket to reposition the implant either through the original incision or a small inframammary incision.
While there is no evidence that breast implants cause breast cancer, we recommend that the patient has a preoperative mammogram as a baseline. After that, when having a mammogram be sure to go to a radiology center where the radiologist is experienced in the (Eklund) unique technique required for an accurate x-ray of a patient with breast implants. It is emphasized that regular breast exams and mammograms are the best way to detect early cancers.
Breast Augmentation Board Certified Doctors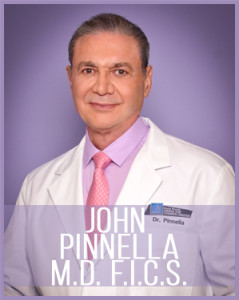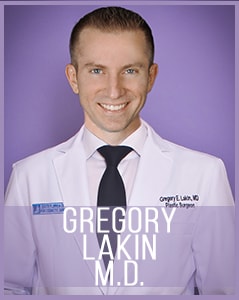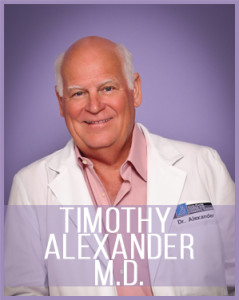 Breast Augmentation Frequently Asked Questions
What's the cost of Breast Augmentation in Miami?
If the surgery is done by a Board Certified Doctor and a Board Certified Anesthesiologist, the average cost for Breast Augmentation in Florida is between $4000 to $10000. You may find lower prices in Florida mainly because the anesthesiologist is a registered nurse, not an anesthesiologist, and the surgeon may not be board certified. We strive to provide a cost-effective price without increasing the health risk to our patients. There are several factors which determine the total cost of your breast augmentation surgery to list a few:
Type of implant
Your BMI
Overall Good Health
Previous surgeries
Allergies to medicaments
How do I prepare for my breast enlargement?
South Florida Center for Cosmetic Surgery breast augmentation patients should schedule a consultation to help determine post-operative breast size and to prepare for their cosmetic plastic surgery.
Please understand that the degree of your breast enlargement may be limited by the amount of tissue you have available to cover the implants. During your preoperative consultation, you will be given specific directions to help you prepare for your procedure. Instructions include cautions about taking a particular medication and drinking alcohol, the shaving process and use of antibacterial soap.
You must stop taking aspirin, aspirin-containing medications, or diet pills for two weeks before your surgery. Do not eat or drink anything eight hours before your procedure. Do not smoke two weeks before and two days after surgery. If you take daily medication, ask your surgeon if it is safe to take before your procedure. Please inform your surgeon if you experience: Body sores, cold, or allergic condition, which may be examined again before your procedure. Any patient over 40 years old will require an electrocardiogram.
What is the difference between silicone and saline breast implants?
Saline (salt water) breast implants have been the only choice for women getting breast augmentation over the last 14 years. This has been because of an FDA ban on silicone breast implants while their safety was being determined. Patients undergoing breast reconstruction have been able to choose silicone breast implants during this time and can attest to their natural shape and feeling and their sturdiness.
At the South Florida Center for Cosmetic Surgery, your surgeon will discuss your options for breast implants and help you make your decision.
Silicone breast implants are less prone to rippling than saline implants; however, most doctors will place a saline implant under a layer of muscle, so there is more tissue above the implant. This lessens the "wrinkling" that you may see or feel through the skin. Some surgeons have found that another way to dampen the rippling of saline implants is to overfill them slightly.
In November of 2006, the FDA cleared silicone implants for use by patients over 22 years old. Candidates are encouraged by the FDA's announcement that silicone implants are as safe and effective as their salt water (saline) counterparts.
Are breast implants safe?
Every woman wonder: "What if my implant bursts?". Do not worry; saline implants are filled salt water solution which would be absorbed by your body.
Years ago, there was a concern that if silicone breast implants leaked, the silicone could harm a woman's health. Cohesive gel implants, sometimes called "gummy bear" implants, are made of a reliable, flexible gel. If one of them is damaged, no harmful fluids or substances will enter the women's body.
The FDA  determined silicone were as safe and effective as saline breast implants.
How long does the procedure take?
Operating time is one to two hours.
What type of anesthesia do you use?
Our Professional M.D. Anesthesiologist uses general anesthesia in all our surgical procedures.
Can I return home the same day?
Yes, however, it is necessary that you have someone to stay with you for the first 24 hours.
All Patients must schedule check-up appointments for the following times:
One day
One week
One month
Three months
Six months
One year
How long before I can return to regular activity?
Assuming you don't work lifting object, most patients return to their usual activities in one week. However, you must not lift anything for the first two weeks nor heavy lifting for the first four weeks.
Schedule Your Consultation
Do you have more questions? Are you ready to have the breasts that you've always wanted? Then you are prepared to have a consultation with the experienced surgeons at the South Florida Center for Cosmetic Surgery. Contact us today at (954) 565-7575 or toll-free at (800) 274-LIPO and schedule your consultation.
*Disclaimer 
Patient pictures are showing Before and After results are actual patients – Individual results vary. Client Testimonials are based on personal experience and are the opinion of individual clients. Any claims made on this website are intended to provide information about the procedures provided here. Realistic Individual results will be discussed with your doctor or healthcare professional provided for your free consultation. The information provided is NOT intended as medical advice and is for your general knowledge only.