Celebrity Arms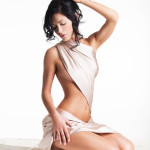 It's hard to get through Hollywood's award season without developing a case of celebrity arm envy. For weeks, slender, sexy celebrities hit the red carpet in strapless frocks designed to show off their beautifully sculpted arms. Mere mortals can't help but pine after their chiseled shoulders, toned triceps and buff biceps.
In the spirit of the recent Academy Awards show and its honorees, South Florida Center for Cosmetic Surgery presents our picks for the best arms in Tinseltown. Check out our selections, and add your own to the comments below!
Cameron Diaz
Cameron regularly serves up arm inspiration in a mix of movie roles and red carpet appearances. Her personal trainer, Teddy Bass, has her alternate strength training moves like tricep dips and bicep curls with treadmill sprints. The results are jealousy inducing!
Jennifer Aniston
Jennifer loves to wear tiny dresses on the red carpet to show off her long, lean limbs. According to her yoga teacher, Mandy Ingber, Jen works hard for her strong arms, and finds the Plank Pose and Plank push-ups particularly effective.
Hilary Swank
Even years after playing a boxer in "Million Dollar Baby," Hilary maintains athletic and strong-looking arms. Two to three times a week, her trainers, Rich and Helene Guzman, take her through a special strength routine with an exercise band that includes bicep curls and tricep extensions.
Amy Adams
A regular fixture on the red carpet, Amy favors strapless dresses that show off her flab-free arms. Her workout routine remains a secret, but fitness gurus speculate that Amy might sculpt her arms with regular kickboxing classes.
Lupita Nyong'o
Lupita certainly needed strong arms to carry around all the awards she won last year for her role in "12 Years a Slave." The red carpet darling likely chiseled her upper body muscles with moves like mountain climbers, curl presses and lateral raises.
Madonna
We would be remiss if we didn't include the original Material Girl, Madonna, on our list. She clearly favors a defined, muscular look, which trainer Nicole Winhoffer says she achieves by switching up her fitness routine weekly. Madonna recently opened up a number of Hard Candy Fitness gyms around the world to help fans and fitness enthusiasts achieve similar body sculpting results.
Do Your Arms Need Some Help?
If your upper arms are flabbier or saggier than you would like, and regular exercise isn't helping, consider arm lift with the South Florida Center for Cosmetic Surgery team. Arm lift can give you the tight, toned-looking arms that you envy on all of your favorite celebrities.