Can I get Kim Kardashian's butt?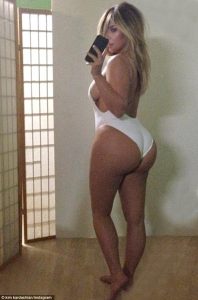 For many people, Kim Kardashian has the ideal physique: curves in all the right places. Arguably her best asset, her derriere has set a new standard for buttock aesthetics. Since her rise to fame, the number of inquiries about buttock augmentation and buttock lift procedures has skyrocketed. For many individuals, Brazilian Butt Lift provides the results they want via a safe and well tolerated procedure.
In this post, the team at South Florida Center for Cosmetic Surgery explains Brazilian Butt Lift in more detail, and how it can help you get a butt that resembles Kim's.
What Brazilian Butt Lift Accomplishes
Brazilian Butt Lift enhances the volume and shape of the buttocks using your own fat. In a three-step procedure, the surgeon removes unwanted fat from an area of your body (such as your abdomen or thighs), processes it and carefully grafts it onto the buttock area. The result is a rounder, fuller looking buttocks and a more attractive, hourglass-like physique.
Enhancing the buttocks with your own fat is advantageous for several reasons. After healing from surgery, your butt will look and feel completely natural (because it is!). Also, the area of your body that "donated" the fat will look slimmer and more sculpted. And, you don't have to worry about a foreign device in your body or developing a related complication.
Setting Goals of Treatment
The happiest patients are those that set specific and realistic goals of treatment. Bringing a photograph of a celebrity whose buttocks you admire (e.g., Kim, Jennifer Lopez) is helpful so your surgeon can visualize your desired results.
However, keep in mind that your results won't look exactly like the photograph. Your unique body type affects the outcome of surgery. It is reasonable to expect an improvement in the shape and contour of your buttocks, but it is not realistic to expect your body to look exactly like Kim's (or Jennifer's or that of your celebrity of choice).
Your plastic surgeon will help you set realistic treatment goals during your initial consultation. You will learn more about what to expect during and after treatment, as well as how to maintain the results of surgery.
Schedule a Brazilian Butt Lift Consultation
To learn more about Brazilian Butt Lift and how it can give you a "Kardashian-esque" buttocks, please contact South Florida Center for Cosmetic Surgery. You can reach us by calling (954) 565-7575 today.