3 Holiday Treats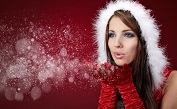 The holiday season is back, and it typically involves festive parties, good friends and countless delectable treats. Unfortunately, indulging in all the sweet treats that are available during the holidays can unwittingly add inches to the toned abdominal contour you have recently achieved with plastic surgery. This holiday season, protect your figure by snacking smarter. Here are three treats that will remind you of the holidays, without ruining your body contouring cosmetic surgery results.
Baked Apples With Cinnamon
Baked apples are a sensible treat any time of year, but adding cinnamon to them will remind you of Christmas. To prepare this tasty treat — which is a good source of fiber and several vitamins, including vitamins A, C and E — core an apple, keeping the bottom intact. You can add spices, such as cinnamon, ginger and nutmeg, and a touch of honey or agave nectar to the empty core. Bake them in an oven that's been preheated to 375 degrees Fahrenheit, for about 45 minutes. These seasonal treats are not just tasty — they smell like your mom's kitchen on Christmas Day.
Dark Chocolate
Instead of reaching for another Christmas cookie, try snacking on one or two squares of dark chocolate. Unlike the empty calories in many cakes and cookies, dark chocolate that is comprised of at least 75-percent cacao contains antioxidant qualities that help fight the free radicals roaming around inside our bodies. Dark chocolate also contains fiber, iron, magnesium and several other nutrients. Not to mention, dark chocolate has been shown to provide cardiovascular health benefits. Just make sure to enjoy this treat in moderation.
Air-Popped Popcorn
Most people have fallen victim to the multi-gallon tin of popcorn that can be purchased in many drug stores around the holidays, at one time or another: You promise yourself that you will only eat a handful of the caramel- and cheese-laden popcorn, only to find that you have consumed about a gallon of the stale snack in one sitting. This year, try air-popping your own popcorn for a healthier snack option.
Air-popped popcorn is a good source of fiber, which regulates digestion and helps keep you feeling satisfied. Also, by popping your own popcorn, you can be sure that no chemicals were added to your snack, as is often the case with microwaveable popcorn.
For added flavor, sprinkle on a dash of truffle salt or some parsley and paprika. Cumin also makes an interesting addition to air-popped popcorn. You can even wrap up several of your homemade flavors in individually sized holiday gift bags to give away as presents.
Need Help Contouring Your Figure?
If you have tried to exercise and snack on healthy food items this holiday season, but cannot seem to get rid of stubborn pockets of fat or loose skin around your abdomen, contact South Florida Center for Cosmetic Surgery for help. Our plastic surgeons offer a range of body contouring treatment options that will help you look great for the New Year.
To schedule a consultation with a board-certified plastic surgeon, contact the South Florida Center for Cosmetic Surgery by calling (954) 565-7575.