Post Bariatric Cosmetic Surgery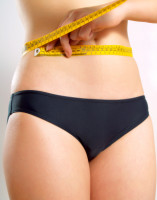 Undergoing massive weight loss surgery is a life changing achievement that deserves to be celebrated. Unfortunately, many bariatric patients are left with sagging, excess skin that hangs off their smaller physique, making it hard to focus on their weight loss accomplishment. If you have recently undergone weight loss surgery, body contouring can help you achieve a more attractive body shape by eliminating drooping skin that no longer contracts over your body's contours. Here, South Florida Center for Cosmetic Surgery takes a look at the most popular body contouring procedures among patients who have had bariatric surgery.
Body Lift
Many bariatric patients are left with drooping, sagging skin that obscures their smaller body figure. For some, exercising or moving in general can be painful because of excess folds of skin on the upper arms and thighs left over from massive weight loss. Body lift gets rid of this skin and can help bariatric patients maintain a healthy lifestyle by making it easier to move. Body lift can tighten the skin in the upper arms, abdomen, thighs and buttocks areas.
Tummy Tuck
Did you undergo bariatric surgery hoping to get the toned abs you've always dreamed of, only to be left with sagging skin? Tummy tuck surgery firms and tones the abdomen by eliminating unsightly, drooping skin. Tummy tuck surgery is a popular choice among weight loss patients because it reduces the appearance of scars left by bariatric surgery. The experienced team at South Florida Center for Cosmetic Surgery offers two types of tummy tuck procedures, the complete tummy tuck and a mini tummy tuck.
Liposuction
Liposuction can help put the final touches on your post-weight loss body by toning and firming your upper arms, thighs, abdomen and buttocks. This popular procedure eliminates drooping skin and fat that are hard to get rid of through just exercise and diet. Many of our patients combine liposuction with body lift to enhance their post-weight loss physique.
Male Breast Reduction
Men of all shapes and sizes can have enlarged breasts (gynecomastia). However, excess breast tissue can be more noticeable on men suffering from gynecomastia who have undergone massive weight loss surgery. Male breast reduction surgery eliminates excess breast tissue, fat and skin to create a flatter, more masculine-looking chest. Men can confidently show off their weight loss by wearing close-fitting clothing in public without worrying about "man boobs."
Take the Next Step with Body Contouring
South Florida Center for Cosmetic Surgery has helped hundreds of bariatric surgery patients firm and tone their bodies following massive weight loss. To find out how our team of experienced surgeons can help you with your weight loss journey, schedule a personal consultation today. Please call (954) 565-7575.