Cellulaze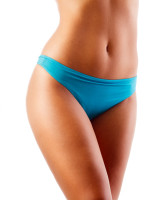 Despite what the cosmetic and skincare industries may claim, no cream or lotion can diminish the appearance of cellulite. That is a job for Cellulaze, an FDA-approved laser-based system that smooths and firms dimpled or puckered-looking skin.
Here, the team at South Florida Center for Cosmetic Surgery explains what you need to know about Cellulaze.
How Does Cellulaze Work?
Creams and lotions don't work because they only affect the surface of the skin (neither does liposuction, which targets the deep layers of fat). Cellulaze is designed to treat the anatomical components just under the skin where cellulite resides. These components include pockets of fat, thin skin and fibrous bands that trap and tether the skin to the fat (creating the dimples and puckers). The heat from the Cellulaze laser loosens the fibrous bands, treats the trapped fat and boosts collagen production for healthier, thicker skin. Over time, the treated area looks smoother in texture and feels firmer to the touch.
Cellulaze Treatment Details
A Cellulaze treatment session typically takes one to two hours, depending on the size of the treatment area, and is not painful. The thighs and buttocks are the most common treatment areas.
Liquid anesthetic is injected into the treatment area to numb it. Then, the unique side-firing laser fiber is passed underneath the skin, where it works to break up the fat pockets, loosen the fibrous bands and stimulate the body's collagen production process.
After the session, the treated area may feel achy or have some mild bruising. Downtime is not needed; most patients resume work and their normal routine a day or two after treatment.
Only one treatment session is needed to produce results, which typically appear three months after treatment. The most noticeable results appear around the six-month mark and can continue to improve for nine to 12 months after treatment.
Learn More about Cellulite Reduction with Cellulaze
To learn more about Cellulaze and how it can reduce or eliminate areas of bothersome cellulite, please contact South Florida Center for Cosmetic Surgery and request a consultation. You can reach our office by calling (954) 565-7575.