Cheek Enhancement Options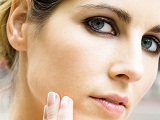 Nearly everyone can agree that well-defined cheekbones are a measure of beauty. Unfortunately, not everyone is born with angular cheekbones positioned high in the cheek area. But fortunately, the South Florida Center for Cosmetic Surgery offers a cosmetic surgery procedure and a nonsurgical cosmetic treatment option to help you achieve the cheek appearance that you desire.
Cheek Implants
At the South Florida Center for Cosmetic Surgery, we offer individuals in Ft. Lauderdale cheek implants. Cheek implants are an effective way to achieve pronounced cheekbones that provide a more aesthetically pleasing contour throughout the entire face. Your cosmetic surgeon may also recommend an adjunct chin implant procedure to balance out facial features and optimize the aesthetic results of the cheek implant procedure.
Juvéderm Voluma XC
If you are not yet ready to undergo cosmetic surgery, but desire a subtle lift throughout the cheek area or would like to enhance your results from facial rejuvenation surgery, Juvéderm Voluma XC might be right for you.
Like its predecessor Juvéderm XC, Juvéderm Voluma XC is an injectable hyaluronic acid-based dermal filler. (Hyaluronic acid [HA] is a naturally occurring substance that helps your skin retain moisture and volume.) While Juvéderm XC is intended for use in filling in fine lines and wrinkles, Juvéderm Voluma XC is the first facial filler that is FDA approved exclusively for use in enhancing the contour of the cheeks. In addition, by enhancing the cheekbone area, Juvéderm Voluma XC provides a subtle lift throughout the cheek area and the lower region of the face. Thus, some patients may be able to stave off facial rejuvenation surgery simply by undergoing Juvéderm Voluma XC treatment.
Learn More
If you are ready to see how enhancing the contour of your cheeks can enhance your look overall, it is time to schedule a consultation with one of our board-certified plastic surgeons. During consultation, your plastic surgeon will evaluate your facial structure and listen to your aesthetic goals before formulating a treatment protocol that will help you achieve your cosmetic goals. To schedule a consultation with a talented plastic surgeon, contact the South Florida Center for Cosmetic Surgery by calling (954) 565-7575.