Timothy Alexander, M.D., F.R.C.S. — Ft. Lauderdale Plastic Surgeon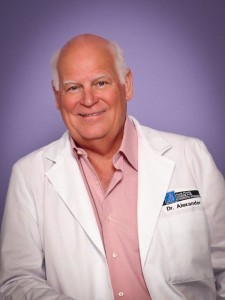 Dr. Timothy Alexander always knew that his passion in life was to practice cosmetic surgery. This passion caused him to spend his early years as a surgeon traveling around the world learning new and different techniques from some of the world's top plastic surgeons. Dr. Alexander's additional training (his training exceeds Board Certification requirements by a full 5 years) gives him the unique ability to draw upon experiences that most other plastic surgeons lack. Moreover, this training when combined with his 30 years of active practice, make him one of the best trained and most experienced surgeons in Florida.
Dr. Tim Alexander was educated at the Otago University Medical School in Dunedin, New Zealand. He pursued his surgical training as a house surgeon at Napier Hospital, Napier New Zealand, the University of Hawaii in Honolulu, and the Princess Margaret Hospital in Nassau, Bahamas. He also served as Registrar in Surgery in Perth, Australia and in Christchurch, New Zealand. Later, he served as Senior House Surgeon in the Plastic Surgery Department at the Hospital for Sick Children in London, England, followed by a term as Registrar in Plastic Surgery in Bradford, England.
He completed his training as a Maytag Fellow in plastic surgery under the tutoring of the nationally and internationally recognized Dr. Ralph Millard. Dr. Millard is one of the greatest authorities in the field of plastic surgery and was nominated one of the "TEN PLASTIC SURGEONS OF THE MILLENNIUM" by the members of the American Society of Plastic Surgery.
After completing the Maytag Fellowship at the University of Miami, Dr. Alexander was accepted as a Fellow of Plastic Surgery under the guidance of two other prominent and nationally recognized surgeons: Dr. Thomas J. Baker and Dr. Howard L. Gordon. Dr's Baker and Gordon organized the internationally recognized Baker and Gordon symposium in Miami, Florida (www.bakergordonsymposium.com). This symposium exposes plastic surgeons to new cosmetic surgery techniques each year.
Dr. Timothy Alexander has been performing cosmetic surgery independently in South Florida since 1982. Dr. Alexander keeps up to date with the latest cosmetic surgery techniques by regularly attending national symposiums and continuing education programs in the field of cosmetic surgery throughout the United States, United Kingdom, Australia and Brazil. Dr. Timothy Alexander was elected Fellow of the Royal College of Surgeons, Ed.Uk. (www.rcsed.ac.uk/site/297/default.aspx) in 1976. Dr. Alexander is affiliated with Larkin Hospital.
"I consider myself very fortunate for having had the opportunity of being guided and taught by some of the most brilliant plastic surgeons around the world, who have mastered, in their own unique way, the art of cosmetic surgery. Thanks to this, I was exposed to many different and excellent techniques which helped me to develop my own skills and techniques to the maximum". Timothy Alexander, M.D., F.R.C.S., Ed. UK.
Fellowship/Board Certification

Fellow Royal College of Surgeons

---

Education

1970
Otago University Medical School
Dunedin, New Zealand
6 year program

---

Post Graduate Training

Internship
1971-1972
House Surgeon, Napier Hospital
Napier, New Zealand
(all specialties)
Residency
1972-1973
Surgical Resident
University of Hawaii
Honolulu, Hwaii
(General surgery & some plastic/reconstructive)
1974
Registrar in surgery
Royal Perth Hospital
Perth, Australia
(6 months general surgery, 6 months plastic surgery)
1975
Registrar in surgery
Burwood Hospital
Christchurch, New Zealand
(6 months general surgery, 6 months plastic surgery)
1976
Senior house surgeon
Plastic Surgery Department
Hospital for sick children
London, England
(Pediatric plastic/ reconstructive surgery)
1977-1978
Registrar in plastic surgery
St. Lukes Hospital
Bradford, England
(all facets plastic surgery)
1979
Fellow in Plastic Surgery
Plastic Surgery Associates
Thomas J. Baker, M.D.
Howard L. Gordon , M.D.
1501 South Miami Avenue
Miami, Florida
(Fellowship program and prepared annual Baker and Gordon Symposium)
1979
Maytag Fellow Plastic Surgery
University of Miami
Ralph Millard, M.D.
144 N.W. 14th Avenue
Miami, Florida
(Fellowship Program)

---

Licensing Examination

1973
FLEK
1971
ECFMG

---

Licensure

Florida
#35285

---

Experience

1972
Emergency room physician
Princess Margaret Hospital
Nassau, Bahamas
1980-1981
Emergency room physician
Hollywood Memorial Hospital
Hollywood, Florida
1990-2005
Florida Center for Cosmetic Surgery
915 Middle River Drive Suite 220
Ft. Lauderdale, Florida 33304
Hospital Affliations
1980-2002
Larkin Hospital
Miami, Florida
2002-2004
Holy Cross Hospital
Fort Lauderdale, Florida
2005
Larkin Hospital
Miami, Florida

---

Transfer Agreements

Holy Cross Hospital
Fort Lauderdale, Florida

---

Memberships

Florida Medical Association
Southern Medical Association
Academy of Cosmetic Surgery

---

Community Projects

Women in Distress
Cancer Society