John Pinnella, M.D., F.I.C.S.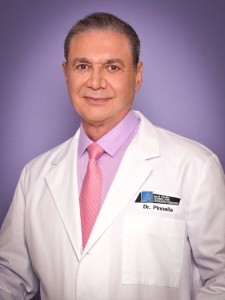 Dr. John Pinnella has been actively practicing cosmetic surgery for nearly 30 years, during which time he has helped thousands of grateful patients to look and feel their best. Throughout his career, Dr. Pinnella's mission has been to understand his patients' cosmetic surgery goals and pursue the option that will deliver the best possible results. As a result, his patients return to him and refer their friends and family for their cosmetic surgery needs, demonstrating their happiness and confidence in Dr. Pinnella's ability.
Dr. Pinnella earned his Bachelor of Arts degree at Hofstra University in Hempstead, New York and attended the State University of New York at Buffalo School of Medicine, where he earned his Medical Doctor degree. Dr. Pinnella completed his general surgery residency at the State University of New York at Stony Brook and his plastic & reconstructive surgery residency at the Baylor College of Medicine. Dr. Pinnella excelled in his residencies and was named Chief of General Surgery Resident and Chief of Plastic & Reconstructive Surgery Resident, respectively, during the programs.
Dr. Pinnella is certified by the American Board of Plastic & Reconstructive Surgery and is a member of numerous renowned state and national professional societies, including the American Society of Plastic Surgery, International College of Surgeons, Florida Medical Association, Broward County Medical Society and Broward County Society of Plastic & Reconstructive Surgeons. Additionally, Dr. Pinnella received the Florida Medical Association Distinguished Physician Award in 2007.
In addition to his cosmetic surgery practice in the United States, Dr. Pinnella has also traveled across the world to participate in projects such as the Interplast Plastic & Reconstructive Surgery Project in Lesotho, Africa and the ASPRS Educational Foundation South Korea Project.
Dr. Pinnella welcomes new techniques, procedures, and technologies enthusiastically as greater tools to accomplish excellent results for his patients. As evidence of this fact, Dr. Pinnella has repeatedly earned the American Medical Association Physician's Recognition Award in acknowledgement of his commitment to advances in the field of cosmetic and reconstructive surgery.
Dr. Pinnella is affiliated with Holy Cross Hospital and Imperial Point Medical Center, both located in Ft. Lauderdale.
Education

July 1964 – June 1967
Hofstra University
Hempstead, New York
Degree: Bachelor of Arts
July 1967 – June 1971
State University of New York at Buffalo School of Dentistry
Buffalo, New York
Degree: Doctor of Dental Surgery
July 1967 – June 1971
State University of New York at Buffalo School of Medicine
Buffalo, New York

---

Internship and Residency

June 1974 – June 1975
Maricopa County General Hospital
Phoenix, Arizona
Rotating Internship
July 1975 – June 1977
State University of New York at Stony Brook
Stony Brook, New York
General Surgery Resident
July 1977 – June 1978
State University of New York at Stony Brook
Chief of General Surgery Resident
Jan 1979 – June 1979
Baylor College of Medicine

Division of Plastic & Reconstructive Surgery
Houston, Texas
Microvascular Research Fellowship

July 1979 – June 1980
Baylor College of Medicine
Division of Plastic & Reconstructive Surgery
Resident
July 1980 – June 1981
Baylor College of Medicine
Division of Plastic & Reconstructive Surgery
Chief of Plastic & Reconstructive Surgery Resident

---

Board Ceftification

December 1983
Diplomate of the American Board of Plastic & Reconstructive Surgery
July 1975
Diplomate of the National Board of Medical Examiners
July 1971
Diplomate of the National Board of Dental Examiners

---

Professional Society Membership

Broward County Medical Society
Broward County Society of Plastic & Reconstructive Surgeons, Inc.American Society of Plastic SurgeryFlorida Medical AssociationFellow of the International College of SurgeonsFlorida Physician Association

---

Licensure

Florida
License No. ME 0039619
Issued 02/15/1982
Texas
License No. F-2853
Issued 12/12/1978
New York
License No. 129231
Issued 11/05/1976

---

Hospital Appointments

Holy Cross Hospital

Imperial Point Medical Center

---

Overseas Projects

June 1984 – July 1984
Interplast
Plastic & Reconstructive Surgery Project
Lesotho, Africa
Sept 1986
ASPRS Educational Foundation
South Korea Project

---

Awards

AMA Physician's Recognition Award, 1986
AMA Physician's Recognition Award, 1989
AMA Physician's Recognition Award, 1992
AMA Physician's Recognition Award, 1995
AMA Physician's Recognition Award, 1998
Florida Medical Association Distinguished Physician Award, 2007