Latisse Eyelash Treatments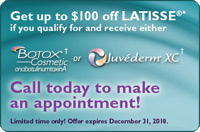 It may seem unbelievable, but it really is possible to have naturally beautiful eyelashes. No longer will you need to spend time applying messy mascara or fumbling with eyelash extensions. Besides being inconvenient, these temporary fixes often don't hold up against the surf, pool, or perspiration, which can be a regular part of life for women in Fort Lauderdale. Enter LATISSE® eyelash growth treatment.
What's It All About?
LATISSE is the first FDA-approved treatment proven to help eyelashes grow longer, thicker, and darker. Its active ingredient, bimatoprost, extends the growth phase of the eyelashes, allowing them time to lengthen. It also enables more lashes to grow at once, causing them to look thicker and darker.
Much like our physician-strength skincare products, you apply LATISSE nightly in the privacy of your home. It's as easy as applying eyeliner. Using a specialized applicator, you carefully apply the solution along the base of your upper eyelids. Because it is approved for use on the upper eyelashes only, take care to blot away any excess solution after each application.
LATISSE effectively improves your eyelashes from the inside out. Take the next step: call us at (954) 565-7575 or toll-free at (800) 274-LIPO today to schedule your appointment at the South Florida Center for Cosmetic Surgery.
Your Results
The improvements from LATISSE emerge gradually as your thin, short lashes are replaced over time with thicker, more beautiful lashes. After about 4 months of nightly use you should begin to notice a change; the transformation is usually complete at 16 weeks once all eyelashes have completed their normal growth cycle. To maintain your enhanced look, continue nightly use. If you stop using LATISSE, your lashes will gradually return to their original appearance. Available only by prescription, you can get started with LATISSE by visiting the professionals at the South Florida Center for Cosmetic Surgery. We offer an extensive variety of medical spa services that can rejuvenate your skin and give your self-confidence a lift. Your results may vary.