Plastic Surgery in Winter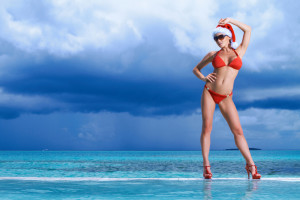 It might be difficult to envision getting your body into bikini-ready shape right now, given that we are in the middle of winter and Christmas has only recently passed. However, undergoing your plastic surgery procedure of choice during the colder winter months is actually a very smart idea. Here's why.
Being Discreet Is Easy
Many of our patients prefer to be discreet about undergoing plastic surgery. This is easier to do during the colder winter months, when the body is generally more concealed under thick sweaters and long pants. Cold-weather clothes can help cover up postoperative bandages, incision sites that have not yet healed, less fashionable surgical garments (i.e., surgical bras or compression garments) and drainage tubes, making it easier to keep your procedure under wraps.
Caring for Incision Sites Is Simpler
One of the cardinal rules of caring for your incision sites after surgery is to keep them out of the sun. As few as 20 minutes of unprotected sun exposure can cause the scars at the incision sites to become red and raised from the skin's surface. If this happens, it is extremely difficult — if not impossible — to improve the look of scars. By undergoing your cosmetic surgery procedure of choice during the winter, there are simply fewer hours of daylight each day for your scars to contend with.
You'll Be Ready for the Beach in Time for Summer
Some of the aesthetic effects of cosmetic surgery are visible immediately following the procedure, such as a more voluminous bust line or a newly contoured abdomen. However, the final results of surgery may take several months to become fully apparent, as this is how long it takes for any residual swelling to resolve and for the body to heal completely. By undergoing cosmetic surgery during winter, you can feel confident that you will be ready to lounge by the pool or on the beach by the first day of summer.
Find Out More About Undergoing Cosmetic Surgery Now
If you would like to get a jump start on the cosmetic surgery process and find out more about your treatment options, do not hesitate to contact us today. To schedule a consultation with one of our talented plastic surgeons, contact the South Florida Center for Cosmetic Surgery by calling (954) 565-7575.